Did you know that it takes about less than a second for a website visitor to form an opinion about your company?
Whether they click around or contribute to your exit rate, you can use that data to your advantage. Based on these analytics, you can determine if your website and content strategy are effective.
Taking it one step further, who is visiting your website and from where? Which device are they using?
You can use all this data to adjust or test your marketing strategy. You can even directly contribute to lead generation and sales goals.
However, the tricky part is collecting and analyzing this website visitor traffic data. What's the best way to track website visitors? Can you do it in real time or anonymously?

Mirabel's Marketing Manager, a software with website visitor tracking, offers insight into this neat platform feature.
What is Website Visitor Tracking?
Website visitor tracking is exactly what it sounds like: tracking visitors on your website.
When visitors come to your site, most web analytics platforms, like Google Analytics, tell you the device they're using (computer, tablet, or mobile) and/or their IP address, which can be traced back to their global location.
This limited information leaves code-unsavvy marketing and sales professionals with only the basics of their target audience:
Where in the world do these visitors live?
What device are they using to see my site?
Website visitor tracking software takes it a few steps further.
Because all internet browsers link to an IP address and most have a reverse DNS record, these tracking tools use a reverse IP lookup code, also known as reverse domain name system (rDNS).
A reverse IP lookup code uses that browser, its device, and geolocation data to find other publicly available pieces of relevant information. This could include social media profiles, current company and job titles, phone numbers, emails, addresses, and so on.
How to Enhance Tracking with a CRM?
When properly linked to a customer relationship management (CRM) software, tracking can amass these pieces of valuable data into a new or existing contact record.
Now, marketers and salespeople have an entire contact based on a single website visit.
Certain website visitor tracking software can even populate all visits to a website, detailing each page clicked and how long the user visited for, which provides all the more data and insight.
Mirabel's Marketing Manager (www.mirabelsmarketingmanager.com) offers all this and more:
Our website visitor tracking sorts contacts with the same workplace to create a robust company profile.
Once a contact is created, all future and past touchpoints are logged in the CRM to better identify what a user is looking for.
When a contact is finally called or emailed, the interaction can be added alongside their website visits, so no data is lost or overlooked.
Tracking visitors on your website gives you a headstart on turning new and/or updated contacts into viable leads for your sales team.
Now, they can spend less time on unreliable tactics like cold-calling and -emailing. They know who makes the buying decisions based on comparative job titles, and can reach out to them directly.
It also gives your marketing team a better understanding of personas. They can execute and analyze data-driven, effective campaigns and identify areas for improvement. For example, they know who would benefit most from which content type.
In short, website tracking helps you identify high-value potential leads and sync them to your CRM without them ever filling out a form.
Does Website Tracking Work All the Time?
As a user, you've likely seen or used private browsing mode.
"Private browsing modes won't retain your temporary browsing data — browsing history, search records, and cookies — which could otherwise be saved by the web browser," according to Norton.
You may have also seen the update on Apple's Safari browser that prevents third-party cookies from being downloaded and tracking website activity. (If not, check out What Do Apple's Latest Privacy Measures Mean?)
It's important to understand that anonymous website visitors can only be tracked through the use of cookies, reverse IP lookup, and other tracking measures.
If a user turns these features off, views in private browsing mode, or opts out of/disables cookies, tracking cannot be guaranteed.
Is Tracking Website Visitors Anonymous?
No, users will always know if you're tracking them, and for good reason.
Why?
Users need to know if their data is being used.
It's why privacy policies exist on websites and why federal governments got involved in the war over digital data.
Understandably many marketers worry about being compliant regarding the United States' CAN-SPAM Act, the European Union's General Data Protection Regulation (GDPR), or Canada's Anti-Spam Legislation (CASL).
These rules and regulations are in place, LeadFeeder says, to "protect someone's privacy (specifically online). It means businesses … need to be transparent with the data they hold on their … audience and be willing to safely delete it at their request."
So, how does this compliance work when you're literally tracking users' digital movements?
It depends on the software you use.
It's of the utmost importance to commit to a website visitor tracking software that offers clear, easily accessible policies regarding cookies, privacy, and terms and conditions. These can usually be found in the website footer or as a pop-up asking users to accept cookies.
Luckily, Mirabel's Marketing Manager offers all this plus an Abuse & Anti-Spam Policy.
How to Use Website Visitor Data in Marketing and Sales?
If you're going to track website visitors, it's important to put that data into practice.
Implement these digital behaviors and profiles into actionable strategies for your marketing and sales teams.
Keep track of your visitors' journeys.
Mapping your consumer's journey is important in marketing. It identifies trends in decision-making and buying behavior.
As you analyze this information, consider these questions:
Where does the user start to learn about their pain point?
Which pieces of content are helping in solving those problems?
Where do they click to find purchasing information?
Is a contact form fill always the last step?
Understanding how a visitor transitions from prospect to lead helps you connect with current and future website visitors. By being aware of your visitors' journeys, you can improve your content strategy and the overall user experience.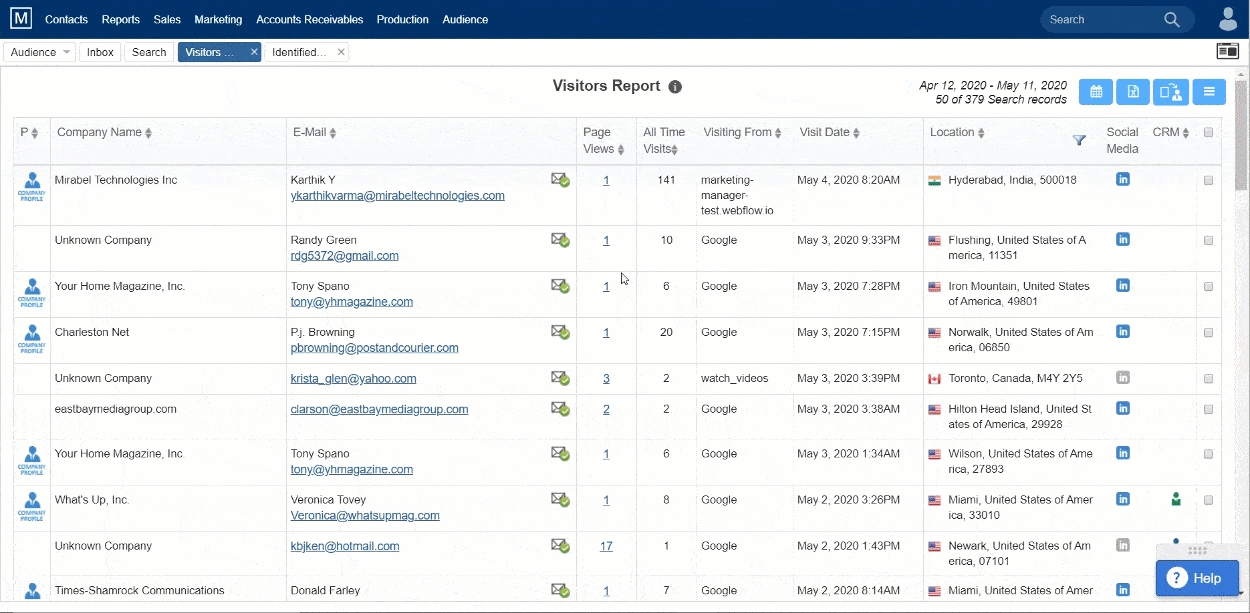 With Mirabel's Marketing Manager, you're able to see how visitors, unknown and identified, arrive on your website and interact with your website's content.
Develop personas and optimize content for lead generation.
In order to create content, including a website, that connects with prospects, you must understand who they are and what they're looking for.
When creating buyer personas, take into account demographics like:
Location
Age
Gender
Occupation
Professional and Personal Interests
To complement these personas, try to identify overarching trends among website visitors. This will help you create a more successful strategy, one that targets personas based on their specific needs.
Analyze content and campaign strategies.
After you gain a deeper understanding of your visitors and what they're looking for, take a closer look at how your current content strategy helps.
Which page do people see first on the website?
Are blogs frequently visited?
What's the average time spent on each page?
Is internal linking working, pushing users around the site?
Real time website visitor tracking software helps you identify who visits your site, how long they're on each page, and how these visitors reached your site in the first place. (That final piece of data informs you about which channels are the top sources of traffic, so you can consider focusing your efforts there.)
Looking at the data behind your content strategy gives you a new perspective on what's connecting with your site's visitors and why they're leaving.
Using Tracking Data Responsibly
Privacy concerns are more prevalent than ever, and the war on big data is only beginning. For marketing and sales, it can be difficult to respond.
If you're looking to track website visitor data responsibly:
Commit to a software that puts privacy as a top priority. All policies should be freely and openly accessible, and cookie opt-in pop-ups are necessary.
Use the data for good. Website visitor tracking should be used to adjust and improve marketing and sales strategies. Avoid using data for personal gain or malicious intent.
Provide relevant, proper content. Use tracking data to create personas, write helpful content, and offer a user-first website.
Don't data mine. First and foremost is privacy. Website visitor tracking is legal if you're honest about your intentions (i.e: "marketing and sales purposes," "opt into communications"). Do not teeter into data mining by avoiding this responsibility.
As a marketer or salesperson, website visitor tracking is extremely helpful in lead generation, conversions, and sales.
If you're interested in learning more about how Mirabel's Marketing Manager can enable this feature, click below.
SEE FOR YOURSELF
Watch an overview to learn how B2B marketing automation by Mirabel Technologies can help you increase traffic, optimize your funnel, drive more leads, improve conversions, and boost ROI — at a price you can afford!
Ready to close more deals with less effort?
Try the Marketing Manager FREE for one month.